Yu-Tiao

Ingredients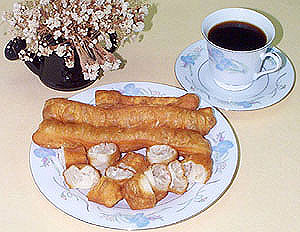 | | |
| --- | --- |
| Ingredient | Quantity |
| Flour(C.F. Flour) | 500g |
| Water | 310g |
| Salt | 7.5g |
| Sodium bicarbonate | 5.0g |
| Ammonium bicarbonate | 7.5g |
| Alum | 5.0g |
Method
1/ Add salt, sodium bicarbonate and ammonium bicarbonate with 3/4 of the water.
2/ Add alum to the rest of the water.
3/ Transfer the flour into a bowl.
4/ Pour mixture in 1/ and 2/ into the bowl
5/ Hand mix for 2 minutes, rest 20 minutes, then hand mix for another 30 seconds. Rest again for 20 minutes and finally hand mix for 30 seconds.
6/ Flaten the dough, wrap the dough with a greased plastic bag and rest for 3 hours.
7/ Roll out with a roller pin into a rectangular shape with about 1 cm thickness.
8/ Cut the dough to 10*2cm.
9/ Using a wet chopstick, press the dough along the length of the dough. Put one piece of dough on top and press with the chopstick again to stick the dough together.
10/ Stretch the dough a little longer before frying in hot oil until golden brown.
11/ Suggest serving with black coffee or in porridge.
---
[ Home | Introduction of Company | Product Information | Services | Contacts | On-line Order ]